Support scholars and acquire
your top-managers of tomorrow
The GSofLog stands for an industry-oriented education of future Top-Managers in fields of logistics. Here – technological expertise and leadership skills, strategic foresight as well as innovative strengths are imparted and communicated. Comprehensive research questions for global logistic pioneering are solved by our networked teams of scholars – always based on challenges of our partner companies. Scholars seize upon fundamental questions of the sponsoring company and lead them to highly innovative logistical solutions.
The sponsoring of a scholar or a scholar-class provides a range of benefits:
Our scholars at GSofLog complete their PhD after three years and will provide your company with innovative solutions.
Your supported scholar is mentored by our professors, who are not only researching on the innovations themselves but are also uncompromisingly committed to our scholars' success.
You acquire and qualify new excellent managers and experts with reasonable time expense and appropriate financial framework (tax advantages due to bill of donation).
Our faculty professors conduct both the application process and the pre-selection of the scholars.
Your benefits at a glance
Recruitment and qualification of new future-orientated managers and experts
Innovative solutions for your company
Reasonable time expense
Appropiate financial framework
Tax benefits due to bill of donations
Qualified supervision by our faculty professors
Applicants pre-selection by our faculty professors
Increased attention to your company
Commitment to the German scientific landscape as one of the leading change drivers
Did we arouse your interest?
Then get in contact with us.
We are looking forward to providing further information.
The GSofLog offers two options to sponsor scholarships. Neben der Förderung von Einzelstipendien, kann auch eine ganze Stipendienklasse gefördert werden. Hierbei bauen die Themen der Promotionen aufeinander auf, sodass umfassende Themenkomplexe behandelt werden können.
Scholarship Sponsorship
Joint research
Targeted supervision by the university professor and aDay-2-Day supervisor
Duration: three years
Scholarship Class Sponsorship
Coordination of at least two scholarship holders
Target-oriented questions based an one another
Multi-perspective consideration of topic complexes
Exchange across company departments or business units
Establishment of a Steering Committee with two meetings per year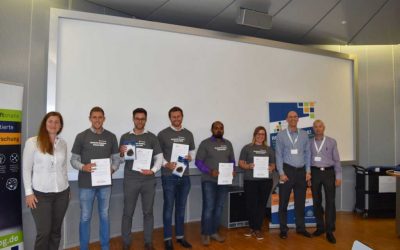 Im zweiten Teil des Erfahrungsberichts zur diesjährigen PhD School of Logistics berichten Marina und Daniel über ihre Einschätzungen zur zweiten Wochenhälfte. Auf der Agenda standen weiterhin die Live Case Study mit der Ergebnispräsentation und Vorträge sowie...
read more