Eine Woche lang geballtes Wissen
aus der Logistikforschung.
Die GSofLog bietet jährlich eine Summer School für Doktoranden der Logistik und ihrer angrenzenden Disziplinen an. Im Fokus stehen tiefes Methodenwissen und aktuelle Trends in Supply Chain Management und Digitalisierung.
Verpasst nicht die PhD School of Logistics 2020!
PhD School of Logistics 2020
Neue Trends und Entwicklungen im Supply Chain Management
Juni 2020 | Fraunhofer IML | Dortmund | Germany
Rethink Future
Digital Transformation in Logistics – Focus on Artificial Intelligence and Machine Learning
Current Methods and Future Trends in Logistics Research
Eine Woche – ein Thema – unendliche Möglichkeiten
Industrie 4.0 im Fokus
Vernetzung, neue Technologien und fachlicher Austausch über Abteilungen und Fachbereiche hinweg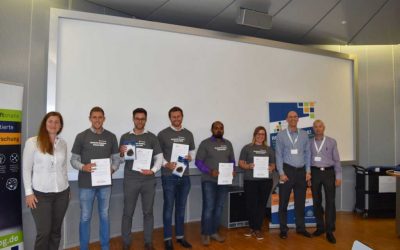 Im zweiten Teil des Erfahrungsberichts zur diesjährigen PhD School of Logistics berichten Marina und Daniel über ihre Einschätzungen zur zweiten Wochenhälfte. Auf der Agenda standen weiterhin die Live Case Study mit der Ergebnispräsentation und Vorträge sowie...
read more