There is a lot to consider when it comes to digital transformation in organizations. We have summarized the ten most important aspects for you.
1. STRATEGY:Digitization should be an integral part of your corporate strategy. Digitization measures must fit in with the corporate strategy.
2. RETHINK: rethink! Promote corporate culture and take employees and colleagues
with you on the path to the future.
3. UNDERSTANDING:Create a profound understanding of the current and future changes.
Ignorance and misunderstanding can lead to anxiety among the workforce.
4. HARNESS POTENTIAL: Digitization does not work alone. Use the potential of your employees
and support the management. Leave room for independent decision-making.
5. CUSTOMER AT THE CENTER:The customer should be at the center. Digitize to solve your customers' challenges.
6. MAKE!!!But not as an end in itself. Identify the areas in your company with the greatest potential instead of lapsing into sheer actionism.
7. TAKE OFF WITH PARTNERS:Take off with partners. Enter into long-term partnerships instead of playing the lone wolf. Where does your core competence lie? For all other topics, cooperation with experts makes sense.
8. START SMALL: Start small. A big vision isn't bad, but create a foundation first and then continuously improve, step-by-step
9. LEARN FAST:Learn quickly, don't be afraid to make mistakes and accept certain risks. Digitization is also an iterative process.
10. LEARN BY EXAMPLE: Start with yourself. Live the change in thinking; this is the only way to convince your colleagues.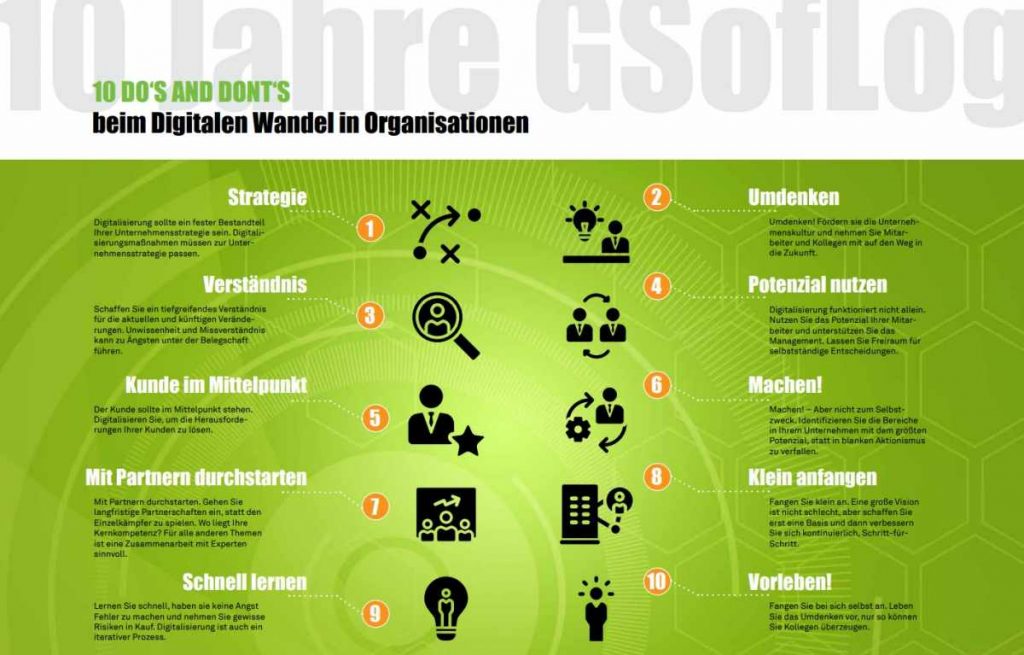 You want to know more about us? Our annual report is now digitallyavailable! Personally you can meet us during the presentations, free of charge, "Practitioners meet Researchers", every 2nd Tuesday a month at TU Dortmund or during Industry meets Science on April 29, 2020.